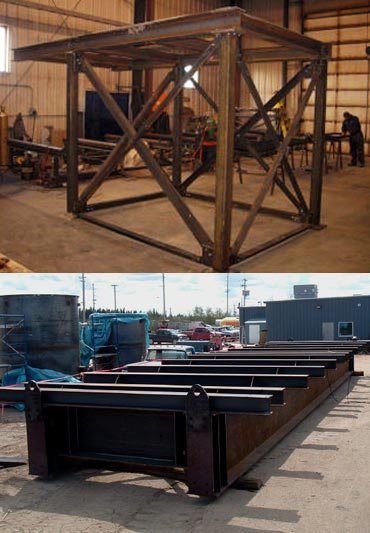 Since 1965 Aurora Manufacturing (formerly King Manufacturing) has been the premier welding and fabrication company in the north. With extensive experience manufacturing custom products to meet the needs of our growing clientele, Aurora Manufacturing has used its modern and fully equipped shop to serve the mining, forestry, oil and gas, construction, and marine industries.
Aurora Manufacturing is certified and registered with the Canadian Welding Bureau to CSA W47.1 and W59, with Underwriters Laboratories of Canada for ULC Approved Double Wall Tankage, with Transport Canada to CSA B620 - Fabrication of Truck Tankage for the Transportation of Dangerous Goods, with the NWT Boilers Branch for Pressure Vessels and Power Piping. Aurora Manufacturing has an ongoing apprenticeship Program to train new staff and all of Aurora Manufacturing's Journeymen Welders are qualified to CWB and/or B Pressure Welding Procedures.
In addition to welding and fabrication abilities, Aurora Manufacturing, as part of the Go Auto, is able to take a design from start to finish through the use of Aurora Freightliner & Western Star, Aurora Autobody, and Aurora Ford. Aurora Manufacturing is a company that specializes in fitting a customer's equipment or vehicle with all the accessories and options you desire all at one convenient location.
Check out www.GoAuto.ca for more information on the Go Auto group of companies.